Need an easy Homecoming fundraiser? Try a concession stand. Setting up a booth at sporting events, school dances, and other events to sell tasty treats and custom products is a great way to make some money to finance your Homecoming dance and Spirit Week events. Here are four easy ways to maximize your profit potential and make the most of your Homecoming concessions fundraiser.
Advertise Your Homecoming Fundraiser
To raise the most money, you need people to show up to buy from your booth or stand, and they won't know you're there or what you have to offer unless you advertise. Use social media and your school newsletter to spread the word ahead of time and let people know you will be set up on site, what you'll be selling, and what the fundraiser is for. The day of the event, hang a colorful banner or flag outside your concession stand and set up signs throughout the event that direct people to your location.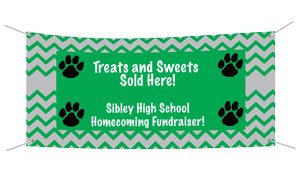 Recruit Volunteers
The more money you can save, the more you can put toward your ultimate fundraising goal. One easy way to save money during your Homecoming fundraiser is to ask for volunteers to work your concession stands, rather than paying people to do it. Recruit parents or teachers to work a shift or two; many will be happy to help. To encourage students to volunteer, offer extra credit, a discount in your school store, an acknowledgement in your school paper, a custom award (like a water bottle or backpack), or other incentive.
Set High Prices
When it comes to fundraising, you're in it to make some serious money, and to do that, you want to be strategic with your pricing to maximize your profit. Set prices realistically but aggressively. Be sure your customers know that you're doing a fundraiser. People will be willing to pay more to help the cause.
Stock Inventory Strategically
Do your research before you start buying inventory. You don't need to offer every treat under the sun in your concession stands. Before the event, survey customers about favorite foods and then stock only the top favorites. Include a few souvenir items, like custom water bottles and stadium cups, that you can fill with soda and sell for a higher price.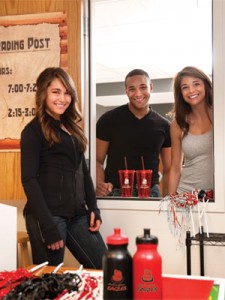 With these easy tips, you can get started on an easy Homecoming concessions fundraiser that will help get you the funds you need to create an amazing Spirit Week and dance for your students.
Like these Homecoming fundraising ideas? Shop andersons.com for everything you need.