Homecoming is all about school spirit; students, teachers, staff, and alumni come together to support their school and team. While it's one thing to feel the spirit, it's another thing to show it. Check out our list of 6 easy Homecoming school spirit ideas to pump up the excitement for the big game and dance.
1) Put on a Pep Rally
A school-wide pep rally is a great way to increase student engagement, get everyone excited about the game, and show Homecoming school spirit. Hand out spirit rousers, introduce the football team and cheerleaders, and wear school colors to get everyone pumped for the game and dance.
 2) Participate in a Parade
If you have team spirit, show it off with a parade starting at the school and ending at the football field before the big game. Go all out with amazing parade floats that showcase your team, cheerleaders, and Homecoming royalty. Be sure to stock up on school spirit accessories, like beads, wristbands, bandanas, and more, that you can toss from floats into the crowd of spectators to get them in on the spirit, too.
3) Host a Homecoming School Spirit Fundraiser
Homecoming is a great time of year to host a school fundraiser. Students, parents, staff, and alumni are all on hand to help – and to purchase, so you can maximize your profit potential. Set up a fundraising booth at the game, during the pep rally, or before and after school to sell custom imprinted items that feature your school or team name.
4) Make Some Noise
If you have school pride, shout it out loud and proud! Stock your school store and concession stands with all the noisemakers your students, staff, and alumni need to show their pride on game day. Be sure to include things like:
Megaphones (these do double-duty as popcorn holders, too)
Cheer Sticks
Cow Bells
Clappers
 5) Wear Your School Colors
Designate a day during Spirit Week as "School Color Day," and encourage students, teachers, and staff to wear your school colors. It's a great way to promote a sense of unity and team pride and get everyone excited for the big game to come.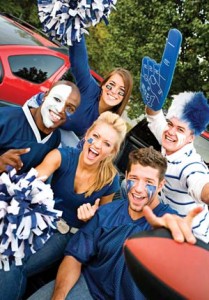 6) Hall Decorating Contest
Find out which class in your school has the most spirit by putting on a hall-decorating contest. Assign one (or two) hallways to each class in your school and let them decorate it in the most spirit-filled way possible. Have the Student Council or a group of teachers vote on the finished hallways and award a prize (like a pizza party) to the class with the most spirited hallway.
 Showing Homecoming school spirit is a great way to generate excitement for the game and dance and to unite your students and staff around a common cause: your school. Start with easy Homecoming school spirit ideas, like these, and add your own to create a fun, memorable, and spirit-filled event.
Like these Homecoming spirit ideas? Shop for Homecoming at andersons.com!