Lighting can make a big difference in the way your space looks. With so many lighting options out there, how do you know which ones are right for your space? Here are some of the best school dance lighting ideas to help you turn your Homecoming or Prom dance from simple to spectacular.
School Dance Lighting Ideas: Dance Floor
Flexlights: Run these flexible tube lights along the edges of your dance for to illuminate the space.
Mirror Ball With Pin Spotlights: Create a classic dance floor look by shining a pin spotlight on a shiny mirror ball.
Underwater Light: Perfect for almost any theme, an underwater light adds a cool, cloud-like effect or underwater look.
Illuminator Lights: Project thousands of lights onto a large area (walls, floors, ceilings) as a fun alternative to mini lights.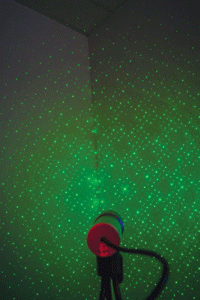 School Dance Lighting Ideas: Theme Props
Floodlights: Shine colored floodlights on large structures to add drama and set the tone.
Tape Lights: Use adhesive-backed tape lights to line archways, pathways, columns, stairways, or almost anything to make them stand out in your space.
Garland Lights: Any lights that come on strings can be used as garland lights. Wrap them around columns, use them to line tables, run them along walls, and more.
School Dance Lighting Ideas: Tables
Light-up Centerpieces: Either choose centerpieces that light up or create your own by wrapping mini lights around a centerpiece. Insert lights inside glassware centerpieces, or place glassware on top of a lighted centerpiece base to shine light up from underneath.
Mini Lights: Attach mini lights or icicle lights to the underside of fabric table skirts, so the light shines through.
Tape Lights: Perk up table edges by running adhesive-backed tape lights around them. It's an easy way to add a fun look.
Flood Lights: Use flood lights or underwater lights to light tables from underneath.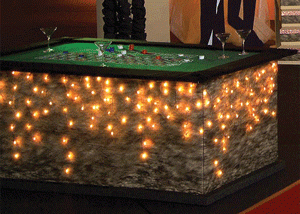 School Dance Lighting Ideas: Ceiling
Light-up Chandeliers: Some chandeliers include light kits to add that perfect glow. If yours doesn't, you can achieve the same look by inserting a flood light inside a beaded or crystal chandelier. Not only does this light up the actual structure, it also projects fun patterns onto walls and floors.
Ceiling Draping Kits: These kits include fabric and lights designed especially to add spectacular drama to ceilings. Just drape the fabric over the lights and hang from the ceiling.
When working with lights in your event space, remember to be careful not to touch the bulbs directly, as they can get hot. Also, be sure to keep fabric and other flammable materials away from direct contact with bulbs to avoid the possibility of fire. If you follow these safety tips, you can use lighting to create all sorts of fun looks for your school event.