Being a member of Homecoming Court is a big deal and deserves special recognition. Whether you hold coronation at the beginning of Spirit Week or at the dance after the game, it's important to make your royalty feel special all week long. Check out our 5 fun Homecoming Court recognition ideas to make your royalty shine.
1) Order Amazing Royalty Accessories
When your Homecoming royalty looks good, they feel good. Help them look and feel their best by presenting them with the most amazing coronation accessories. Choose a spectacular rhinestone tiara for your Queen and her court and  handsome crowns for your King and his court. Then, deck them out in coordinating sashes, scepters, robes, jewelry, and more to complete the look.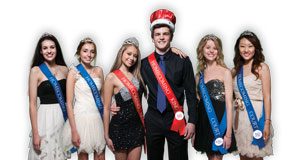 2) Call the Press
Make your Homecoming royalty feel extra special by showcasing them in your local newspaper. Take out ad space and publish their photos and names, or ask the paper if they would be willing to interview your royalty and run a small story about them in the paper. Also, don't forget to run your own story and photos in your school paper, newsletter, or other publication. Your Homecoming court will love to see themselves in the spotlight.
3) Make Posters or Banners
Once you have determined your Homecoming court, put their pictures and names on posters or custom banners and display them throughout your school. Not only is this a great Homecoming court recognition idea, but it will also pump up excitement for Homecoming among the student body.
4) Put Them on Parade
A great way to make your Homecoming royalty feel special is to give them their own float in your Homecoming parade. Whether you create your own or purchase float kits or themes from Anderson's, be sure the float is designed especially for your royalty. Include thrones and décor in your school colors, and be sure your court wears their sashes to show off their royal status.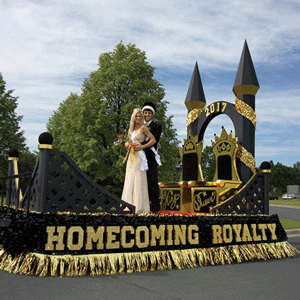 5) Use Social Media
Social media is a great way to get the word out about your Homecoming royalty. Create a Facebook page expressly for introducing and showcasing the members of your royal court. You can also create a special Twitter hash tag that you can use to tweet fun facts about your royalty and information about Homecoming events and activities.
Try to incorporate some of these ideas into your Homecoming Spirit Week this year. Making your Homecoming Court feel special will enhance the experience and give each member wonderful memories that will stay with them for a lifetime.
Like these ideas? Shop for all your Homecoming supplies and accessories at andersons.com.