October is Breast Cancer Awareness Month, so it's a great time to get your school and community together to raise money and awareness for this important cause. We've put together a list of 10 easy pink out fundraiser ideas your students and staff and get involved in to help fight breast cancer.
1) Host a Pink Out Event
Turn your fall carnival, Homecoming game, or other school event into a Pink Out fundraiser. Invite the community and donate admission and concession proceeds toward your cancer awareness cause.

2) Caps For Cancer
Many schools have a "no hat" policy. If yours is one of them, make an exception for one or two days during the month of October. Offer students and staff the chance to pay a small fee ($2-3) to wear caps or hats to school on the designated day.
3) Host a 5K Run
Give your students and staff the chance to run to save lives by putting on a 5K run at your school (include community members, too). Have participants ask family and friends to sponsor their run by donating per mile or a lump sum.
4) Sell Concessions
Purchase awareness pink stadium cups to fill with beverages and sell at sporting events. Or just set aside proceeds from all concessions sold during a given game to be donated to your cancer charity.
5) Go Pink in Your School Store
Stock items, like T-shirts, key chains, wristbands, EyeBlacks, and temporary tattoos that feature the pink ribbon logo or your school mascot and be sure students know that proceeds from these items will go directly to help fight breast cancer.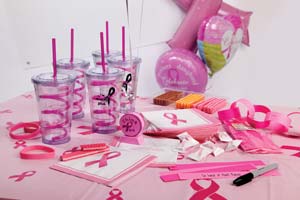 6) Send Your Mascot on a Mission
Dress your mascot in pink and send it through the stands on game day with a box or a bag to collect monetary donations to help your cancer charity. Be sure to make an announcement during halftime to let fans know to get their wallets ready.
7) Cook For the Cause
Cooking events are great ways to raise money for breast cancer awareness. Get out the pots and pans, recruit some parent volunteers, and put on a community event as part of your school's pink out fundraiser ideas. Some fun things to try:
Spaghetti dinner
Pancake breakfast
Soup Night
Chili Cook off
8) Bake Sale
Everyone loves baked goods, and as Pink Out fundraiser ideas go, there's nothing better than a classic bake sale. Set up in the cafeteria before school and during lunch – the highest traffic times – to ensure the highest profit potential.
9) Booster Club T-shirt Sale
Selling T-shirts is one of the easiest Pink Out fundraiser ideas, because you can make a lot of money in a short time. Order some awareness pink T-shirts and custom shirts featuring your school mascot or logo and start selling. Get your booster club involved and set up a booth at sporting events, before and after school, or even at local businesses. Be sure to let patrons know where the profits are going.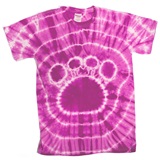 10) Donate Event Admissions
Choose one or two events – like football games or drama productions – during the month and put the word out that all money raised from admissions will be donated to breast cancer awareness causes.
Whether you incorporate one of these ideas into your fundraising efforts, or all of them, you'll find that raising money for Breast Cancer Awareness can be quick, easy, and fun – and it's a great way to bring your student body and the community together for an important cause.