Wondering what kind of Prom favors and keepsakes to present to students for your Masquerade Prom theme? We have you covered with this handy list of ideas that work for both a gothic masquerade ball and a modern Mardi Gras-inspired theme.
1) Mask Favors
Turn your masquerade Prom theme into a genuine masquerade ball. Hand out mask favors at the door and encourage students to wear them to give the entire event that perfect air of mystery. There are many mask favor options to choose from, including full masks, half masks, plain masks, and fancy masks. Choose the ones that match the tone of your Prom, or offer a variety of styles and colors for an authentic look.
2) Masquerade Prom Glassware Favors
There are a few fun ways you can turn ordinary glassware favors into special keepsakes that match your masquerade theme.
Add your custom imprint to any glassware favor
Choose our Mysterious Mask Set that includes a key chain and glass with a mask charm
Select our Cardini Tumbler that lets you choose a full-color masquerade graphic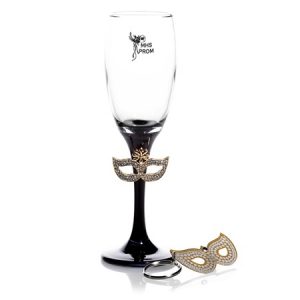 3) Masquerade Prom Frame Favors
The easiest option for a masquerade-themed frame favor is to choose one that allows you to add a full-color graphic. Choose a graphic that best matches your masquerade theme, add your custom imprint, and you'll have the perfect keepsake of your masquerade Prom.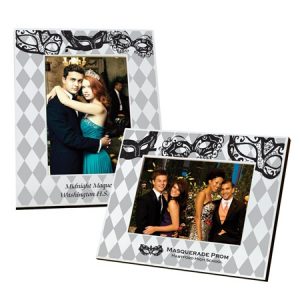 4) Masquerade Prom Swag Bags
A themed swag bag is a great way to give your teens fun favors that match your masquerade theme. You can choose a ready-made swag bag that includes everything you need. Or, create your own. Just fill a gift bag with favors, like masks, charms, key chains, candy, and more.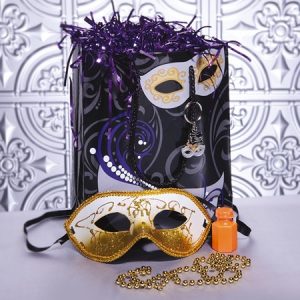 5) Masquerade Prom Candy Favors
There are lots of fun ideas when it comes to candy favors for your Masquerade Prom theme:
Set up a candy buffet with a red and black color scheme
Hand out chocolate bars with a full-color masquerade-themed graphic
Choose mask-shaped lollipops
Include chocolate roses at every place setting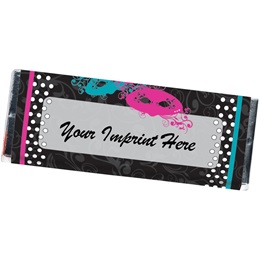 6) Masquerade Key Chain Favors
Key chain favors are always a fun choice. Choose a key chain favor in the shape of a mask or choose a photo key chain with a full-color masquerade graphic. Whatever key chain favor you choose, it will make a great daily reminder for your teens of the fun time they had at Prom.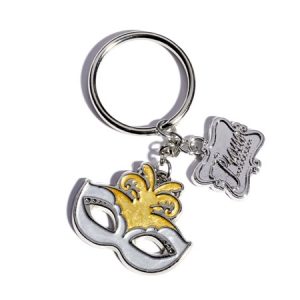 Bring on the mystery and the fun with a fabulous Masquerade Prom theme. Whether you choose a gothic mystery tone or a fun Mardi Gras theme, be sure to hand out fabulous keepsake favors like the ones mentioned here to make the event special and memorable for your students.
Like these favor ideas for your Masquerade Prom theme? Find them and so much more at andersons.com.