Can you guess the number one most popular Prom theme this year? If you said, "Enchanted Forest," you're right. Schools are going crazy for this fun theme, because it's so versatile. Enchanted Forest themes can be mysterious, magical, romantic, elegant, haunted, or any combination you want. Whichever way you go with yours, here are the basic elements you'll need to create an amazing Enchanted Forest Prom theme for your students.
Trees, Trees, and More Trees
You can't have an Enchanted Forest theme without trees, but what trees you choose and how you arrange them are totally up to you. To add depth to your space, try tree background silhouettes or tree murals to display against the back wall. Then, fill in your forest with whatever trees help you achieve the effect you want. Tree theme props and wire trees can help add a magical look to a fairy tale or winter wonderland scene. Tree cut outs can add the perfect touch to create a haunted forest look.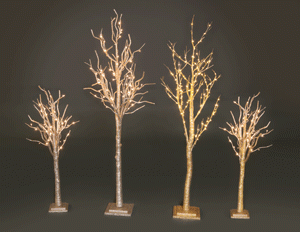 An Arch or Gateway
Welcome students to their Enchanted Forest Prom theme with an arch, gateway, or other entrance structure that matches the tone of your theme. You can purchase a theme prop kit or design your own by covering a wire or cardboard arch or gate with green fabric, foliage, ivy garland, or other decorations.
 A Pathway
Once you have your entrance, you'll want a pathway to lead students through your enchanted forest. We offer complete pathway kits, or you can create your own using decorations like background paper, fabric, metallic sheeting, and more. Be sure to choose or create a pathway that matches the tone of your theme.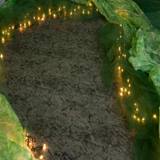 Lighting
Mood lighting is an essential element of any Enchanted Forest theme. Choose lighting that corresponds with the tone of your theme. String mini lights or hang lanterns from the trees to create a soft, romantic look for your fairy tale enchanted forest. Use lampposts and floor lanterns to add mystery and ambience to your haunted forest or Beauty and the Beast-inspired forest.
Accent Pieces
Every Enchanted Forest Prom theme needs the perfect accent pieces to add that perfect finishing touch. Think about what elements you might find in the enchanted forest of your dreams and accessorize appropriately. Add some of these easy accent pieces to round out the look of your forest scene:
Set the scene for your Enchanted Forest Prom theme with a stylish invitation that features a forest scene. Then, start creating your forest using the ideas presented here, plus some of your own. Whether you're forest scene is romantic and elegant, haunted and scary, or somewhere in between, you can make it distinctly yours and give your students a Prom night to remember.
Like these Enchanted Forest Prom theme ideas? Find them all and more at andersons.com!