It's time to send out invitations for the biggest event of the season – Prom! But, how do you choose the right invitation and what information do you include on it? Before you get stuck in a Prom invitation rut, check out our easy Prom invitation etiquette tips to help you create the perfect invitation for your big event.
Choose the Right Prom Invitation
The first step in Prom invitation etiquette is to choose the right invitation. Choose a solid-color invitation that matches your school color, or choose an invite that matches your Prom theme.
Use the Right Tone
Before you decide on the actual wording for your invitation, you'll want to think about tone. Do you want to use casual language or more formal wording? It's really your choice, but your Prom theme can help you determine the best tone to use. If you're going with an elegant ballroom theme, a formal tone may be more appropriate. For a theme like Tropical or Blast from the Past, you may feel more comfortable with a casual tone.
Example of formal wording:
"The Junior Class of Lincoln High School requests the honor of your presence at the Junior-Senior Prom on Saturday, the twenty-first of April at seven o'clock in the evening. Lincoln High School Gymnasium."
Example of casual wording:
"Come join us for a night of fun at the Junior-Senior Prom on Saturday, April 21, at 7:00 p.m. in the Lincoln High School Gymnasium."
 Include the Right Prom Information
Wondering what information to include on your Prom invitation? Just remember the following. The order of this information can vary, depending on the layout and requirements of the invitation you choose, but this is the basic information you'll need:
Who: Junior/Senior Class
What:  your Prom theme
When: date and time
Where: location (school or off-site venue)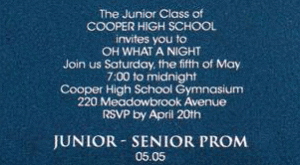 Determine Which Information Should Stand Out
Most Prom invitations include a line or two of information (either on the top or within the text) that stands out from the rest, and it's usually up to you which information that is. Decide which information is most important and make that stand out. It could be your theme name, your school name, or even the date of your Prom.
Add a Fun Touch
It's always a nice idea to add a bit of fun to your Prom invitation to get students excited for the big event. You can do this by including glitter or confetti inside the envelope or embellishing the envelope itself with a sticker, envelope seal, or ribbon accent.
With these easy Prom invitation etiquette tips, you can rest assured that your Prom invites will give your guests all the info they need and get them super excited for the big event at the same time.
Like these Prom invitation ideas? We have lots of Prom invites to choose from at andersons.com.