Murals are fun and easy ways to transform your Prom venue from ordinary to extraordinary. Whatever your Prom theme, these larger-than-life Prom decorations can be used in a variety of ways to add depth, drama, and interest to your scene. Check out these five fun ways to incorporate murals into your Prom decorations.
Smile! Use Murals as Photo Props
Due to their large size, murals and background illustrations make awesome photo backdrops! Set them up in your photo area and let couples and groups pose in front of them for formal photos or selfie shots to get everyone in the mood for the fun to come.
Set the Scene: Add Murals as Theme Backdrops
When you include a mural on the back wall of your theme, it becomes part of the décor and helps set the scene to add depth to your event space. To get the full effect, choose a mural that matches your theme. Here are some fun ideas:
Paris Theme – Paris Sunrise Photo Mural
Underwater Theme – Background Illustration #3893 featuring an undersea scene
Ballroom Theme – Starlight Waltz Black and White Mural
Hollywood Theme – Red Carpet Walkway Photo Mural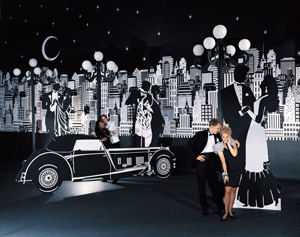 Hang Murals From Ceilings
If you're short on wall space or just want to create a unique look, you can achieve the same mural effects by hanging murals from the ceiling. Just punch holes in each top corner, add grommets, and use fishing line or rope to hang one or several murals. Try hanging them at various heights to add depth and interest. A Starry Night theme is the perfect one to try this with. Hang lots of Midnight Stars Murals around the room.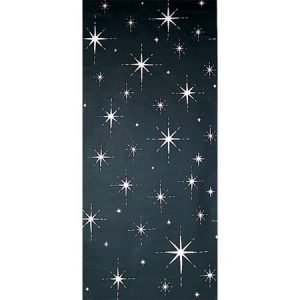 Promote Prom: Display Murals With Your Custom Imprint
A mural offers a fun and unique way to promote your Prom, both before and during the event itself. Many murals and background illustrations let you add your own custom wording, like your school name, Prom theme, or Prom date. Hang your custom mural in school common areas before Prom to generate excitement for the event, and then move it to your Prom venue to use as a decoration piece or photo backdrop.

Deck the Halls: Use Murals to Cover Large Areas
If you have a hallway connecting different rooms of your Prom venue, or one leading from your party room to the restroom, cover the hallway walls with murals that match your theme to create a cohesive look that ties the different areas together. Murals are also great for jazzing up unsightly areas. Nothing says "school gym" like rows of bleachers or lockers. Use murals to cover these large areas and incorporate them into your Prom theme.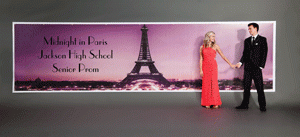 Make a larger-than-life statement in your Prom venue by decorating using murals. Whether you use them as photo ops, hang them from the ceiling, or use them to promote your event, murals are quick, easy, and fun ways to enhance your theme and make your prom extra-memorable for your students.
Want to use murals in your Prom decorating? We have you covered. Find them all at andersons.com