Candy buffets are a hot trend for Prom, Homecoming, Senior Party, and other school events. These statement-making displays are great ways to show off your school colors or theme colors, and provide fun snacks for students at the same time. Setting up the perfect candy buffet is easy. Just follow these tips and ideas to design the sweetest candy display for your special school event.
Set the Sweetest Scene
To create the perfect candy display, you'll need the following elements:
A long table or two
Risers to add height and depth
Containers of varying sizes and styles to hold the candy
Cups, jars, bags, or boxes for students to fill up with candy
Candy, candy, and more candy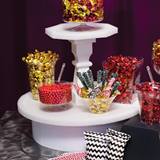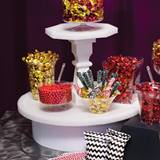 Match Your Theme and Colors
You'll want to match your candy types and colors to your theme or your school colors. Here are some ideas. Use these and add your own to design a candy display that's perfect for your school.
Fairy Tale Theme
Colors – silver and white, red (Beauty and the Beast), or pretty pastels
Candy – chocolate roses, chocolate hearts, candy gemstones, pastel buttermint creams
Ballroom Theme
Colors – black and white or gold and silver
Candy – chocolate bow ties, anything wrapped in gold or silver foil
Casino Theme
Colors – red and black, gold
Candy – chocolate poker chips, dice lollipops
Underwater Theme:
Colors – shades of blue
Candy – shark gummies, malted milk balls (to resemble bubbles)
Winter Wonderland Theme:
Colors – silver and white, light blue
Candy – white chocolate covered pretzels, white rock candy sticks
Starry Night Theme:
Colors – dark blue or black
Candy – chocolate stars
Hollywood Theme:
Colors – gold, silver, red
Candy – chocolate stars, chocolate award statues
Enchanted Forest Theme:
Colors – silver, green, white
Candy – chocolate roses, gummy bears
Paris Theme:
Colors – black and red
Candy – chocolate Eiffel Tower, Paris buttermints
Tropical Theme:
Colors – bright and bold colors, yellow, red, orange, pink
Candy – chocolate sunglasses, lollipops
More Ideas For Your Candy Buffet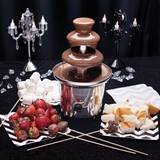 If you've never had one before, consider adding a candy buffet to this year's Prom, Homecoming dance, or Senior Party. It's a fun way to make a statement and give your teens fun memories and keepsakes of the event. Use these easy tips and ideas to make your candy buffet the sweetest one ever.