When you think about decorating for Prom, do tables and chairs come to mind? Decorating your Prom tables and chairs is the perfect way to give your Prom theme that perfectly polished look. To make it easy for you, we've put together some fun table and chair decorating ideas you can use to jazz up the look of your Prom theme.
Prom Table Décor Ideas
Fabric – Fabric is probably the most important accessory you can use to enhance your Prom tables, as it sets the tone for all your other table décor. Choose your favorite fabric; there are so many amazing options out there, from paisley to glitter, to gossamer, and satin. Try some of these fun ideas:
♦ Cover tabletops and let fabric hang over the edge
♦ Add a table runner in a contrasting fabric
♦ Shred gossamer and line tables with it as a table skirt
♦ Use a solid-color fabric underneath and a sheer fabric on top for a fun look
Lights – Lighting can add a fun and dramatic look to your Prom tables. There are tons of fun ways you can use lights to create the perfect look:
♦ Use tape lights to line table edges
♦ Hang icicle lights down the side like a table skirt
♦ Bunch mini lights inside glassware to create a light-up centerpiece
Centerpieces – Centerpieces add that perfect finishing touch to your Prom tables. You can choose a fun centerpiece that exactly matches your Prom theme – like an Eiffel Tower, Cinderella coach, or stars – or create one of your own using flowers, glassware arrangements, masks, or almost anything.
Confetti – Sprinkle confetti in the center (under centerpieces), at each place setting, or all over the tables.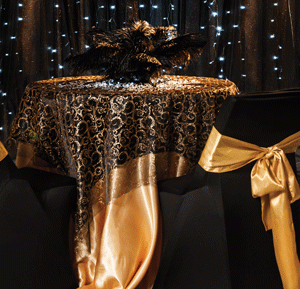 Prom Chair Décor Ideas
Fabric – Give your Prom chairs a dramatic and elegant look using fabric. Cover each chair entirely with fabric and secure with a fabric brooch or clip. Be sure to choose fabric that coordinates with your theme or your table décor.
Sashes and Bows – Ready-made chair sashes and bows are quick, easy, and effective ways to jazz up your Prom chairs. You can also create your own by using your choice of fabric and tying it in a bow around the back of each chair.
Balloons – For a fun Prom theme, like carnival or candy land, use balloons to accent the chairs at your tables. Tie one to each chair corner for fun pops of color.
Garland – Garland makes a fun and easy decoration for your Prom chairs. Choose red rose garland for a romantic or fairy tale theme, ivy garland for a garden or enchanted forest theme, or sparkly tinsel garland for a Hollywood or Vegas theme. Run it around the perimeter of each chair for a unique look.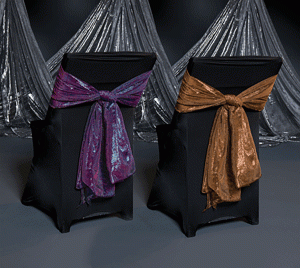 Dress your Prom tables and chairs in style using these quick, fun, and easy ideas. Whether you want to match your Prom theme or just add some glitz and glam, decorating your Prom tables and chairs will give your Prom space the perfect finishing touch.
Like these easy decorating ideas? Find them all and more at andersons.com.