Raising money for Homecoming is one of the biggest undertakings of the school year, and with the right techniques, you can easily maximize your Homecoming fundraising profit potential. We surveyed schools around the nation to find out how they are raising money for Homecoming. Here are their top three Homecoming fundraising methods.
3) Concession Sales
Concession sales can help you generate tons of profit for your school. Take advantage of events where there are large groups of people, like sporting events (both home and away), special programs and concerts, theater productions, and even community events, to set up your concession stands and rake in the profits. Maximize your profit potential with these concession stand must-haves: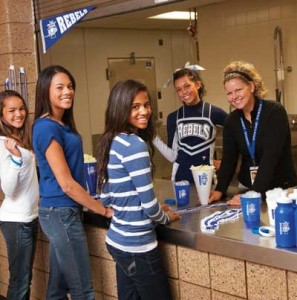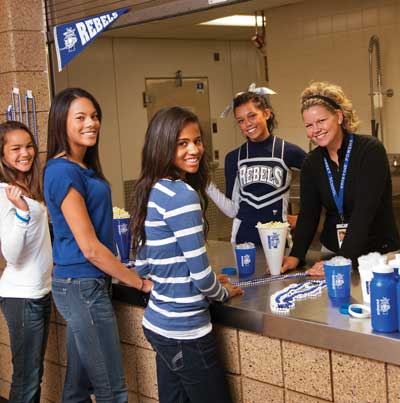 2) Spirit Product Sales
The second most popular way schools are raising money for Homecoming is through sales of spirit products. The easiest way to sell spirit items at your school is in your school store, but you can also stock these items in concession stands on game days or set up booths before and after school or during lunch periods. You'll want to include everything from traditional spirit items that fans can use on game days to items with your school logo to help pump up school pride all year long. Generate maximum profits with fun items like these:
Noisemakers (megaphones, cheer sticks, cow bells, air blasters)
Foam spirit rousers and inflatables
Shakers and poms
Custom school apparel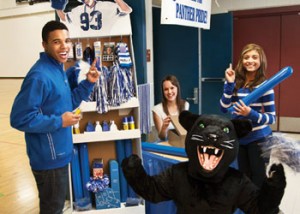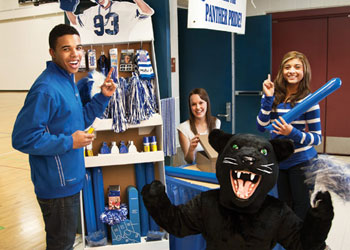 1) Ticket Sales
Not surprisingly, the #1  way for schools to raise Homecoming funds is through ticket sales. Selling tickets for both the game and the dance is easy, requires very little overhead, and can generate a ton of money for next year's Homecoming events. You can get by with standard rolled tickets for both, or make the dance stand out with custom tickets that match your theme. However you do it, there are a few things to keep in mind in order to make the most money:
Sell Them at the Right Price
You want to make as much money as you can, but if you charge too much, you run the risk of low attendance, which not only affects the amount of money you make via ticket sales, but also the revenue you might bring in from concession stand sales. So, what's the ideal price? That depends on your school, student body, and community. In general, though, the sweet spot seems to be around $5-7 for students and $8-10 for adults for game tickets and around $15-20 for dance tickets. 
Make People Want to Buy
While Homecoming is one of the biggest events of the year and most schools experience great turnout, it never hurts to try a few tricks to get even more people to buy tickets.
• Advertise. Hang banners and signs all over school to pump up spirit and announce the important details. Also, take advantage of social media. Post messages on your school's website or Facebook page, send out tweets, and e-mail students to remind them to get their tickets early.
• Generate excitement. Most schools have a Spirit Week leading up to game day to get students psyched for the game and dance. Activities like theme days, pep rallies, wall decorating contests, and other fun things add to the excitement and make students want to buy tickets for the main events. Be sure to remind students every day that ticket sales are happening now. 
• Offer an incentive. If it looks like Homecoming attendance might be low this year, provide an incentive to boost ticket sales. Offer a small discount or package deal (game and dance ticket together) for students who buy early (say within the first 2 days of sales). Or offer a free raffle ticket, movie pass, or gift card (donated, of course) to the first 50 (or 25 or 100) students who purchase tickets. Get creative and watch ticket sales soar.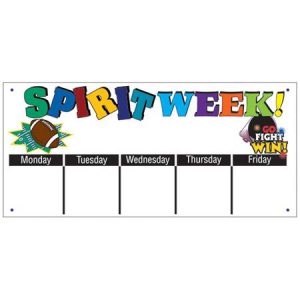 Make It Easy
The easier it is for students to buy tickets, the more likely they are to actually buy them. Offer tickets for sale everywhere students are, so it's almost impossible for them to say no.
Set up booths at entranceways before and after school
Don't make them come to you. Walk around during lunch periods selling tickets.
Set aside 10 minutes during homeroom and have teachers sell tickets
Offer e-tickets online on your school's website or Facebook page
These tried and true Homecoming fundraising ideas are working for other schools – try them at yours and see how much money you can raise to make next year's Homecoming events the very best they can be.
 Want to try these Homecoming fundraising ideas at your school? We can help. Shop now at andersons.com