Coronation is one of the highlights of Prom and the Homecoming dance, so it's important to crown your Queen and the ladies on her court with beautiful, sparkling tiaras that will make them look and feel like true royalty. To make it easy for you, here is our list of the hottest tiaras styles from Anderson's, so you can find the perfect ones for your Prom or Homecoming royalty. 
Traditional Tiaras
Traditional tiaras are always popular choices for schools. Made of shiny silver metal with dazzling clear rhinestones, these timeless tiaras are perfect for any style and any budget. Some feature rhinestones arranged in a pattern, like a butterfly, flower, or snowflake to match specific themes, but most coordinate beautifully with any theme. Your Queen and her court members will cherish their classic tiaras as special and keepsakes of their reign at Prom or Homecoming.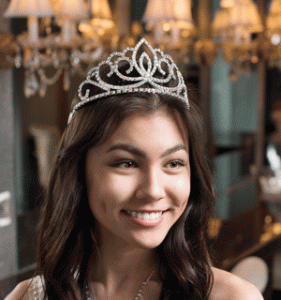 Colored Metal Tiaras
Shake up the traditional with classic tiaras that feature colored metals. Tiaras with colored metal still have a timeless style but with a fun twist that gives them a modern look. Yellow gold tiaras are perfect for Hollywood or ballroom Prom or Homecoming themes, pretty rose gold is the perfect choice to coordinate with a fairy tale theme, and edgy black metal is ideal to match a gothic or Masquerade theme.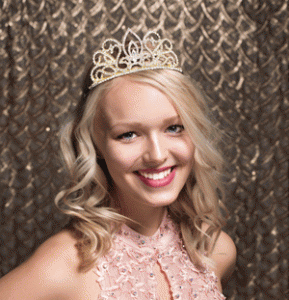 Colored Stone Tiaras
Colored stones give classic tiaras the perfect pop of color to make them stand out among all the royalty accessories your Queen and her court will wear. Giving your royalty colored stone tiaras is a perfect way to match your accessories with your theme colors or school colors and create a beautiful keepsake for the ladies on your court. Our colored stone tiaras come in a variety of colors. You can choose black stone tiaras, red stone tiaras, pink stone tiaras, blue stone tiaras, or iridescent stone tiaras to create a princess-perfect look for your royal ladies.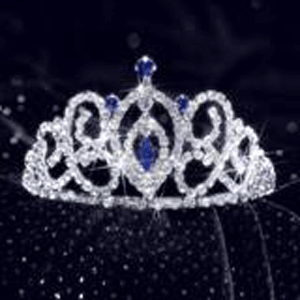 Majestic Tiaras
Want your queen to really stand out from the crowd? Crown her with an amazing Majestic tiara. These super-tall, pageant-style tiaras are guaranteed to turn heads and be the talk of coronation. The tallest tiaras we offer, the stunning beauties stand as high as 11" and come with traditional clear rhinestones or colored stones in pink, red, or blue to match your theme. Your Queen will never forget the moment she is crowned with one of these gorgeous tiaras that is truly fit for royalty.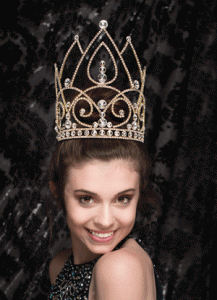 Full-crown Tiaras
Full-crown tiaras are designed to provide the ultimate royal look for your Queen and her court. While traditional tiaras go partially around the head and attach to the hair with comes, full-crown tiaras go all the way around the head and fit snugly like a crown. They're a fun royal accessory choice for a fairy tale theme when you want your royalty to really look the part.
Charmed Tiaras
Charmed tiaras let you add a personal touch to your royal accessories by adding a dangling charm that coordinates with your theme. The classic silver tiaras with clear rhinestones come with your choice of charm that you attach to the front to give your Queen and the ladies on her court a fun and unique look for coronation.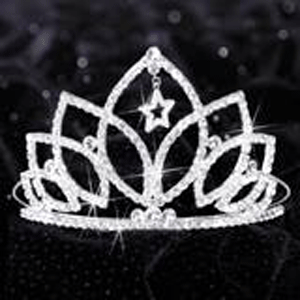 Comfort Tiaras
One of the newest tiara options we offer, comfort tiaras feature special comfort bands that make them fit better and stay put, even while your royal ladies are dancing the night away. Your Queen and her court will love the comfortable feel of these soft-sided tiaras and will want to wear them all night long.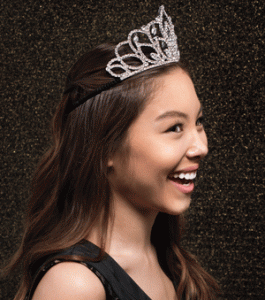 With so many fun tiara styles to choose from, we know you'll find the perfect ones to make your Queen and her court sparkle for coronation.
Ready to crown your royalty in style? We have everything you need. Shop now at andersons.com