A Paris Prom theme is a very popular idea for Prom night. Who wouldn't want to travel to the City of Lights and experience a little romance underneath the Eiffel Tower? Paris is a romantic and historic city with lots of creative possibilities you can use for a Prom theme. Use any or all these fun and fresh ideas for your Parisian Prom night!
Paris Sightseeing
There is a plethora of wonderful sights to see in Paris, France. Recreate those amazing buildings and world wonders for your Prom night with Paris-themed stand-ups. Some important Parisian landmarks to include are: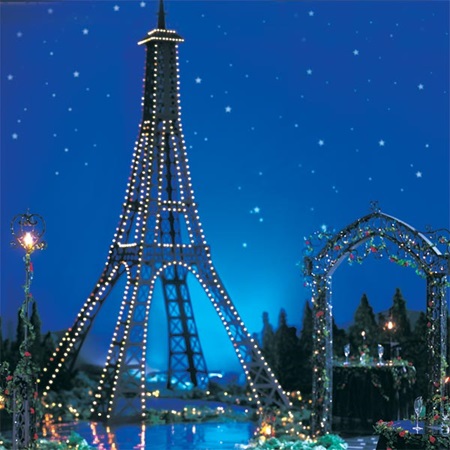 • Moulin Rouge
• The Eiffel Tower
• Arc de Triomphe
• SacreCoeur Basilica
• Notre Dame Cathedral
Paris Quaintness
In addition to its grand, historic sights Paris is also known for quaint little bistros, cafés, and stores. Once you have your big structures in place, add cobblestone streets and tables with umbrellas to represent the bistros. Use decorating materials to create the Seine River. Don't forget lush fabrics to create a quaint and tranquil French park.
Paris: The City of Lights
Paris is known as the "City of Lights. Keep that mind as you decorate your Prom space. Add cardboard city skylines that edged with mini lights. Drape light strings around balustrades and columns, and set up lampposts in corners for photo ops.
Vintage Paris
Take a look at our Paris Prom Theme board on Pinterest. You will notice there are lot of vintage looks to inspire your Parisian decorating. Use artwork prints, vintage movie posters, and other retro or antique items for table décor to create a fancy French atmosphere.
Paris Food Tour
Your Prom night menu should complement your theme, especially a Paris Prom theme. Try some of these ideas for your Prom menu: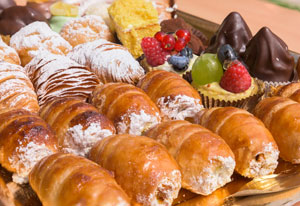 • Croissant sandwiches
• "French" fries
• Cupcakes or cookies with Eiffel Tower decorations
• Add French flag picks to appetizers
• Set up a pastry buffet (instead of a candy buffet)
Music for Your Paris Prom Theme
Complete your Parisian Prom night with some tunes to set the mood. You can try classic songs like:
• "April in Paris" by Louis Armstrong
• "Last Time I Saw Paris" by Connie Francis
• "To Paris with Love" by Donna Summer
More modern song ideas include:

• "Paris" by The Chainsmokers
• "Paris (Ooh La La)" by Grace Potter and Nocturnals
• "Paris" by Lana Del Rey
Or provide a mix of classic and contemporary tunes that everyone will love.
Want even more ideas for your Paris Prom theme? Check out our Paris Perfect Pairings section for coordinating invitations, tickets, and favors.