Do you know that fabric is a secret weapon is when it comes to Prom decorations? It's true. No matter what type of fabric you use, there are lots of ways to use fabric to add drama, depth, and interest to your Prom space.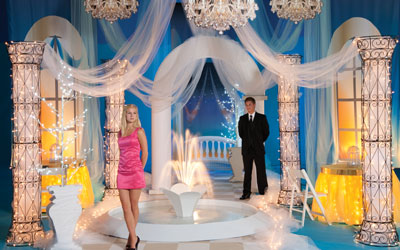 10. DRAPE IT – Drape fabric over and through existing structures to create an easy and elegant look for Prom.
9. HANG IT – Hang fabric from room corners to cover boring walls and create dramatic backdrops. Hot tip: Use lighting effects to pump up the dramatic effect
8. GATHER IT – Once you've hung fabric on the walls, gather it in the middle and tie a bow around it to create unique shapes.


7. CASCADE IT – Cascade your fabric from the ceiling like a canopy to transform your space. The easiest way to do this is to hang a ceiling ring and loop your fabric through it.
6. SWOOP IT – Hang fabric in a swooping fashion throughout your Prom area to connect different structures and add interest to your space. Billow or wave the fabric to create more volume.
5. FLOOR IT – Bunch fabric on the floor around mini-lights to create lit pathways and walkways that go with any Prom theme. Or line metallic sheeting or patterned paper with fabric to create streets or rivers.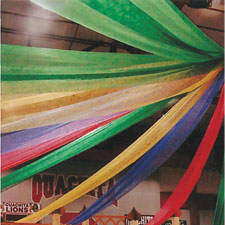 4. FAN IT – Hang long pieces fabric from the same high point of your Prom space, then fan them over the rest of the room. Magnet movers are an easy way to accomplish this idea because they won't damage the ceiling.
3. CINCH IT – Create a long cylindrical fabric column and hang it from the ceiling. Cinch the hanging column around the middle with a ribbon or shorter piece of fabric to create unique decorations.
2. COVER IT – Cover your Prom tables with fabric to make your own table skirts. Line table edges with gossamer and hang mini lights under the table to make it sparkle.
1. TWIST IT – Twist fabric around columns, archways, and stairways in a fun spiral pattern. This is one of the easiest ways to use your fabric.