Whether you're putting on a Sno-ball, a holiday banquet, a holiday program, or any other seasonal event at your school, you'll want to give your space the perfect magical look to match the season. Here are 10 easy decoration ideas you can use to add a festive touch to all your school's holiday events.
1. Light up Trees
The warm soft glow of light-up trees is the perfect way to set the tone for your seasonal events. Choose one of our fancy, pre-lit faux trees, or choose an unlit tree and add your own lights to achieve the look you want.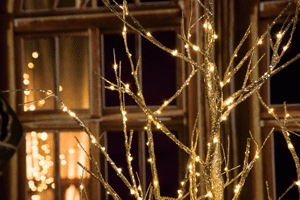 2. Fancy Fabric
Dress your event space in its holiday best with fun fabric. Go glitzy with glitter or metallic fabric for the ultimate seasonal shine or choose any fabric in holiday or winter colors, like white, silver, light blue, red, green, and gold to promote the perfect holiday feel. 

3. Fringe and Festooning
Fringe and festooning make it easy to add festive fun all over your event space. Hang fringe from doorways or ceilings and use festooning to line tables or walkways. Choose holiday colors or go bold with metallic or holographic for the ultimate shine.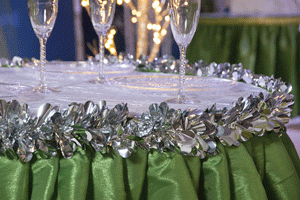 4. Metallic Cardboard Silhouettes
Capture the sparkle and shine of the season with metallic cardboard silhouettes. From life size people silhouettes to lampposts to pine tree forests, our gold, silver, teal, and purple metallic silhouettes will add the perfect touch to your holiday scene.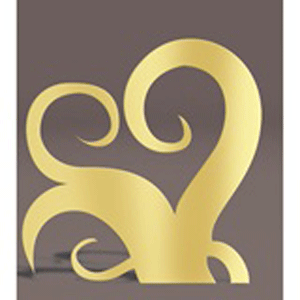 5. Arches and Columns With Fabric Covers
Give plain wire arches and columns the perfect holiday looks by adding satin, glitter, or metallic covers to match your holiday event colors. Go traditional with red, white, silver, gold, or blue covers, or go dazzling with gold or silver sparkle covers.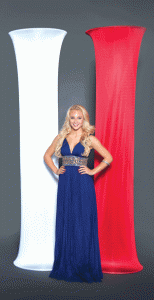 6. Crystal Decor
Crystal decorations not only add elegance to your event, but they also reflect the light to add sparkle and shine, so they're perfect decorations for holiday dances, banquets, and more. Choose crystal chandeliers for the ceilings, crystal beaded curtains to hang in doorways, crystal columns and stands to place around your event space, and crystal centerpieces for your tables.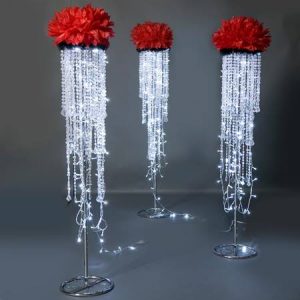 7. Lights
Nothing says "holiday" like beautiful, twinkling lights, so be sure to use them in your holiday event decorations. Run red and white mini lights around table or pathway edges, hang icicle lights from the ceiling or doorways, or use illuminator lights to add sparkle to your walls, floors, and ceilings.
8. Table Covers
One of the easiest ways to give your event space the perfect festive look for the holidays is by covering your tables in the colors of the season: red, gold, white, silver, blue, and gold. You can create table covers with almost anything, from cracked ice to patterned paper to fun fabrics. Choose one or two colors – or more – and dress your tables in high holiday style.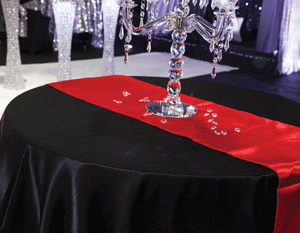 9. Balloons
Use balloons in holiday hues to add pops of festive color around your event space. Create balloon bouquets to fill empty corners or place at entranceways, use single balloons with balloon weights as fun centerpieces, or do a balloon drop using balloons in holiday colors or with holiday patterns.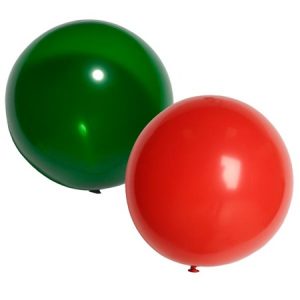 10. Chair Covers and Sashes
Don't let your tables get all the attention. If you doll them up for your holiday event, be sure to dress your chairs up, too. With chair covers and chair sashes, it's easy to give your chairs a look to match your holiday décor.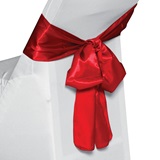 With these easy ideas to help you, decorating for your school's holiday events will be quick, easy, and fun, and you can create the perfect festive looks to match the spirit of the season.
Ready to plan holiday events at your school? We have everything you need. Shop now at andersons.com